Frame Your Child's Imagination
The perfect way to display and cherish your child's artistic creations!
This frame is specially designed to celebrate your child's creativity while adding a bright and playful touch to any room in your home.
Bring Art to Life
Crafted with high-quality materials, this frame is both durable and lightweight, making it easy to hang and move as needed.
With space for up to 150 A4 & A5 drawings or photos, the easy magnetic opening makes it simple to insert and switch artworks so you can update the display as often as you like.
Save & Display!
The frame is the perfect way to give your child a special place to display their art and remind them their talents are valued.
By giving your child a special place to display their artwork, you are fostering their creativity and self-expression, encouraging them to explore and celebrate their unique talents.

FEATURES:
Store up to 150 Artworks
Easy to Hang & Move Around
Display your Child's Artwork
Encourage Creativity & Self-Expression
Give your child's artwork the recognition it deserves. Whether you're looking for a fun way to decorate your child's room or a thoughtful gift for a loved one, this frame will surely delight and inspire you.
Specifications:
Color: Black, White
Size: 13.8 * 10.4in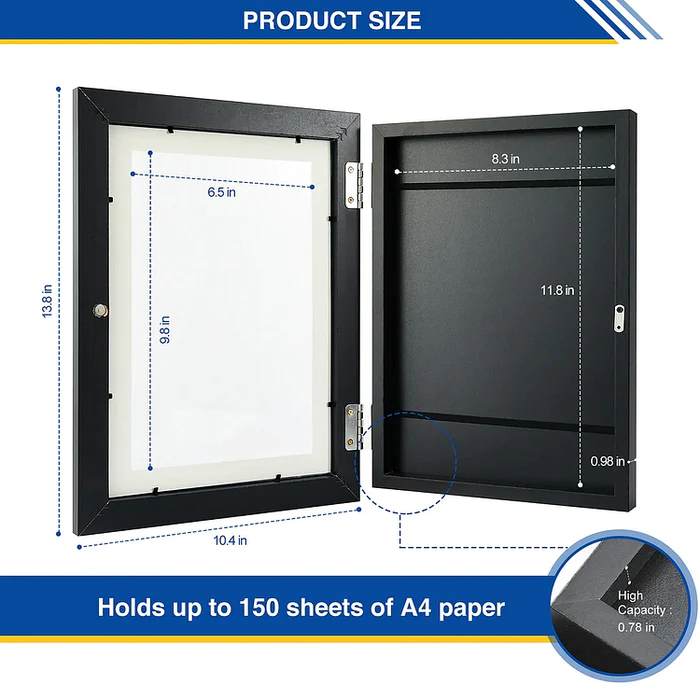 Package Include