"This is a Godsend for storing one's better bags. This is a good closet organizer, much like hanging shoe organizers. The purse storage bag is an excellent space saver. It folds easily and the mesh makes it possible to see which bags are being stored. That feature alone makes this worthwhile. It is all too easy to store things and forget about them if you don't see them. This hits the 100% mark on all counts - attractiveness; functionality and a safe place to keep one's bags."
- Bo
✅ Verified Buyer
The bigger the handbag collection gets the harder it is to organize. Purses and Handbags when not in use are tucked away, on top of each other, sitting on floors, or hanging their handles on hooks. Handbags that are tucked away are usually forgotten, neglecting the care of the handbags is comparable to throwing money that everyone is guilty of.

The Handbag Hanging Organizer is the ultimate purse organizer, it's sturdy and keeps purses and handbags compartmentalized. It has a netting-type mesh material that allows viewing all the handbags and purses at once. The Handbag Hanging Organizer helps in remembering and making sure that the handbags and purses are used frequently.
REASONS WHY OUR HANDBAG HANGING ORGANIZER WILL CHANGE YOUR LIFE
✅ SPACE-SAVER: The Handbag Hanging Organizer fits into different types of closets. Ideal for living spaces with limited shelf space as it doesn't take up too much closet space, an excellent space saver.
✅ HEAVY-DUTY SHELVES: Each compartment of the Handbag Hanging Organizer holds up to 7lbs of weight. Small to large bags fit easily in the compartment providing comfortable storage space for each bag.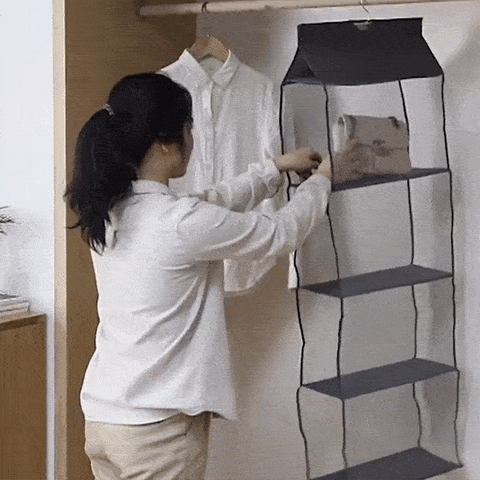 ✅ VISIBILITY: The Handbag Hanging Organizer has a netting-type material on each side of the compartment. Provides a clearer presentation and easy selection of the handbag all at once, easily matching every outfit with the perfect handbag.
✅ DURABLE: The Handbag Hanging Organizer is made of environmentally non-woven fabric. The Nylon mesh is breathable and safely stores the handbags for a long time without smelling, it also avoids the dry skin of the leather from falling off.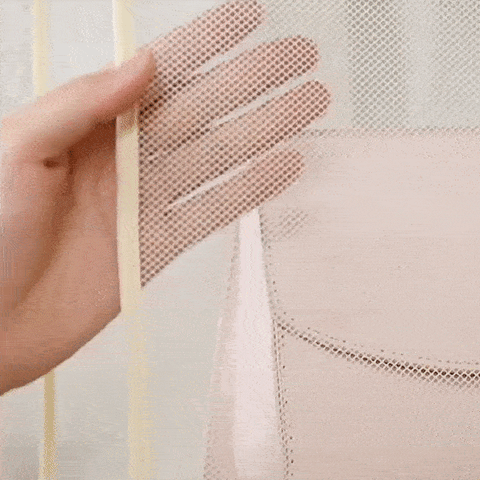 ✅ EASY TO USE: The Handbag Hanging Organizer is very easy to use and assemble. Right out of the package and straight to your closet, it's easy to hang on any standard garment rods, closets, doors, wardrobes, and shelves.
HOW TO USE
1. Unfold the Handbag Hanging Organizer

2. Simply hook on a closet rod and you are ready to go.

3. Enjoy the perfect storage solution for your handbags and purses.
We understand it can be very stressful to look for that specific bag that you know will fantastic and complete your whole outfit. Spending so much time looking for it, "Out of sight, Out of mind" is a common problem when owning purses and handbags. According to a recent study, 10% say they feel depressed when they open their closet and 47% admit they struggle to pick out a bag that matches their outfit before heading out.
The Handbag Hanging Organizer is the easiest way to organize any purse and handbag, it makes the most out of the available closet space. It has a see-through design, displaying all the purses beautifully while keeping your handbags clean and damage-free. Instantly finding and choosing the perfect bag for any occasion, no more forgetting about the handbags that are tucked away on the shelf!
PRODUCT SPECIFICATIONS
4 Shelves (L x W X H ): 16 x 6 x 47 inches (40 x 16 x 120 cm)
3 Shelves (L x W X H ): 16 x 6 x 37 inches (40 x 16 x 95 cm)
2 Shelves (L x W X H ): 16 x 6 x 27 inches (40 x 16 x 70 cm)

PACKAGE INCLUDES
1 x Lunina - Handbag Hanging Organizer