Automatically cut vegetables, immediately cut and ready to use.
With it, you can have electric vegetable cutter and electric meat grinder and electric cleaning brush at the same time, a multifunctional set.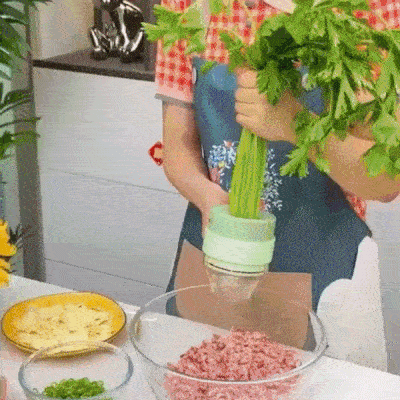 It is more convenient to cut and accompany dishes, fresh ingredients, easy to clean, use once and fall in love with it!
About this article
Filling hole: it is also convenient to add one, avoiding the tedious steps of opening and screwing the cap, and the long ingredients such as pepper, cowpea, yam, etc. can be directly inserted;
Directly put into the pan: cut slicing, no need for a container to cook in seconds, the garlic slices and chili rings are even and beautiful;
Comfortable Grip: Breaking the hanging click mode of traditional electric garlic paste, the ergonomic design won't strain your hands;
One-touch cleaning: The whole machine is rinsed, the feed hole is added with detergent to start with one touch, and it can be washed under running water, stirring for 5 seconds.

Features
Material: ABS+PP+PC+Stainless Steel
Size: about 20.5*9.5*8.0(CM)
Motor power: about 40 W