💝💝💝The more fountains you have, the more beautiful the effect !!!💝💝💝
Misting Watering & Outdoor Water Playing
---
Our self-watering system covers a larger area than traditional watering to help keep your plants healthy and lush while using 70% less water. When the mist is irrigating the roots of plants, it reduces most of the evaporation.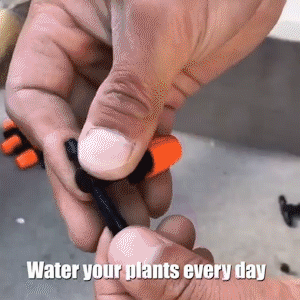 Water your plants every day automatically when you are on a business trip or during your travel, it will decrease your patio temperature up to 20°f, cooling and humidifier function bring you a cool summer and a more healthy life.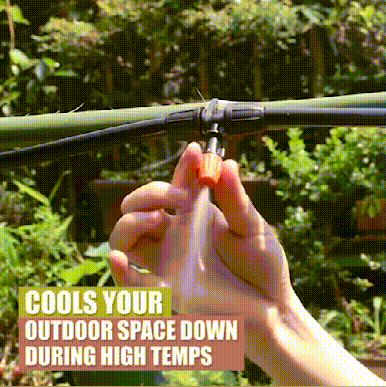 Automatic irrigation kit is great for atomization, lawn irrigation, patios, gardens, vegetable irrigation, roof cooling, irrigation ,agriculture, vegetable , greenhouse, flower bed, swimming pool misting fog cooling irrigation etc.
Each nozzle can be adjusted individually, and the nozzles have two spray modes: columnar and mist, so that each plant can customize watering according to its precise needs.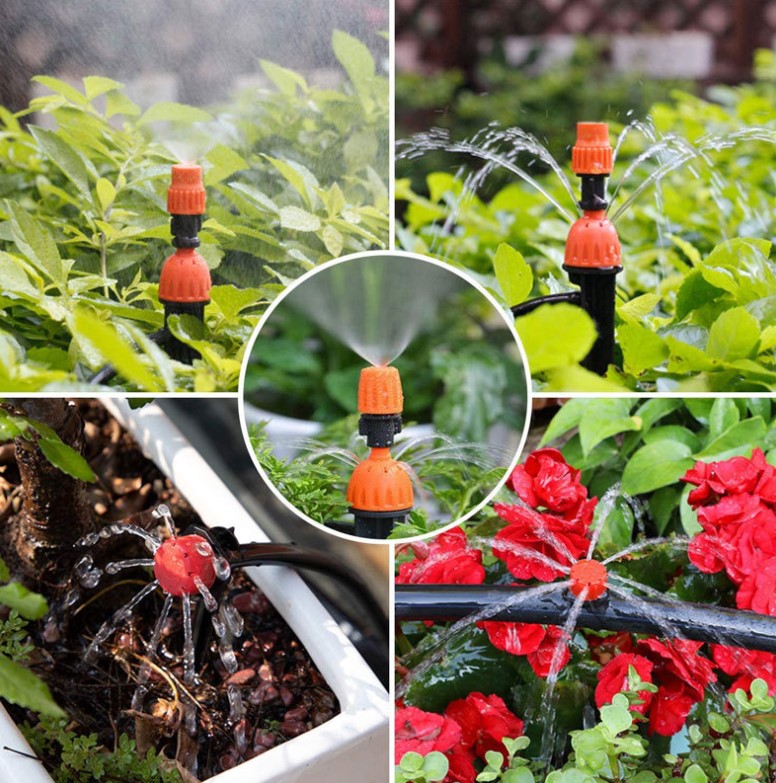 Easy Installation:Simple installation without digging or plumbing skills,simply insert the fittings and sprayers, you can begin watering your plants instantly.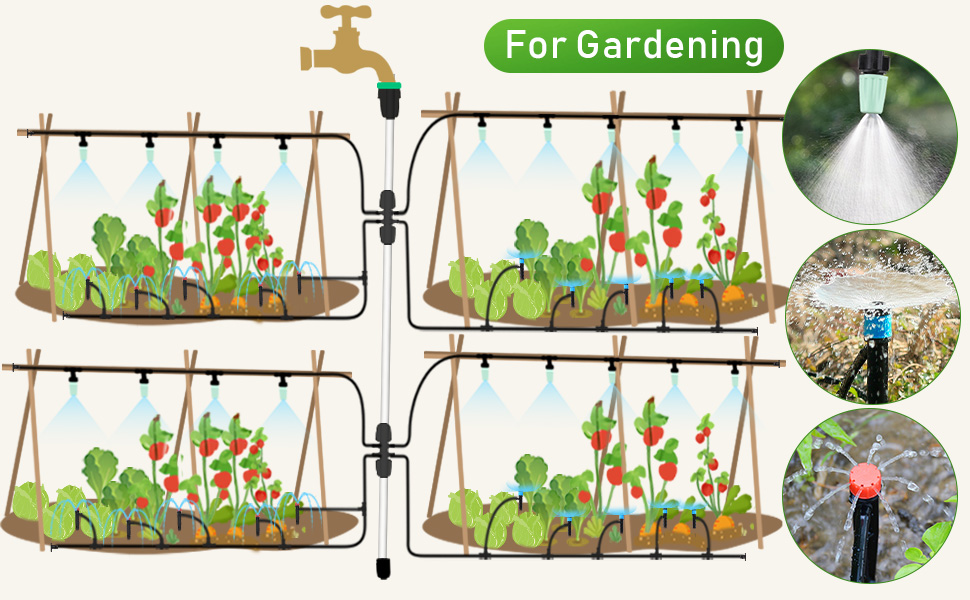 The soft mist can be used in trampoline water park, umbrella,shade sail, swimming pool/animal cage for outdoor water playing, not only funny but also cooling. Best water playing in outdoor party/crowd.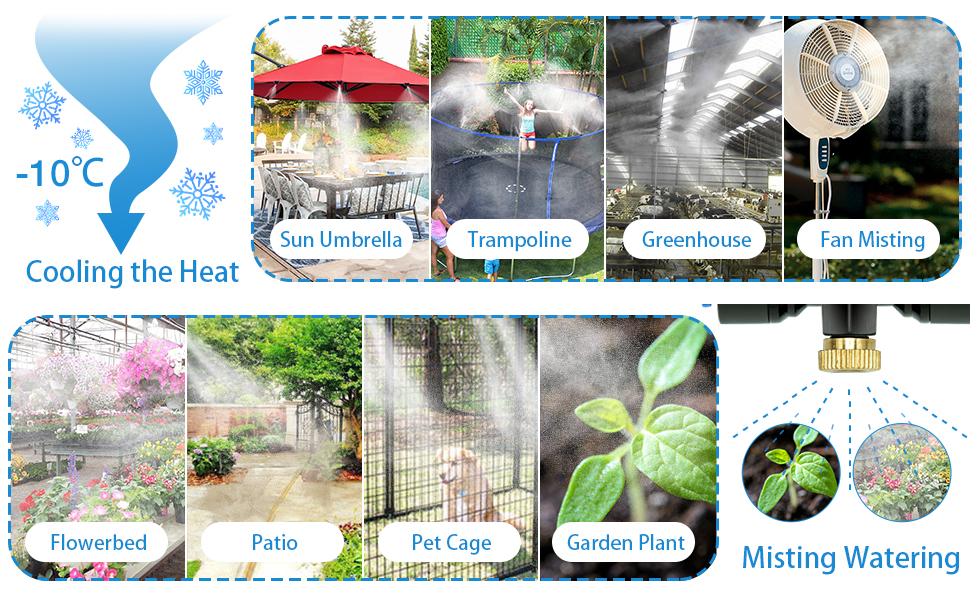 How To Use
1. Cut the water pipe according to the length you need.
2. Attach tee with the atomizing nozzle.
3. Attach an end closure when you finish all atomizing nozzles' installation.
4. Attach the pipe to tubing quick connector with the tee.
5. Attach the tubing quick connector with the universal connector.
6. Attach the system to Faucet and place the installed spray near your plants.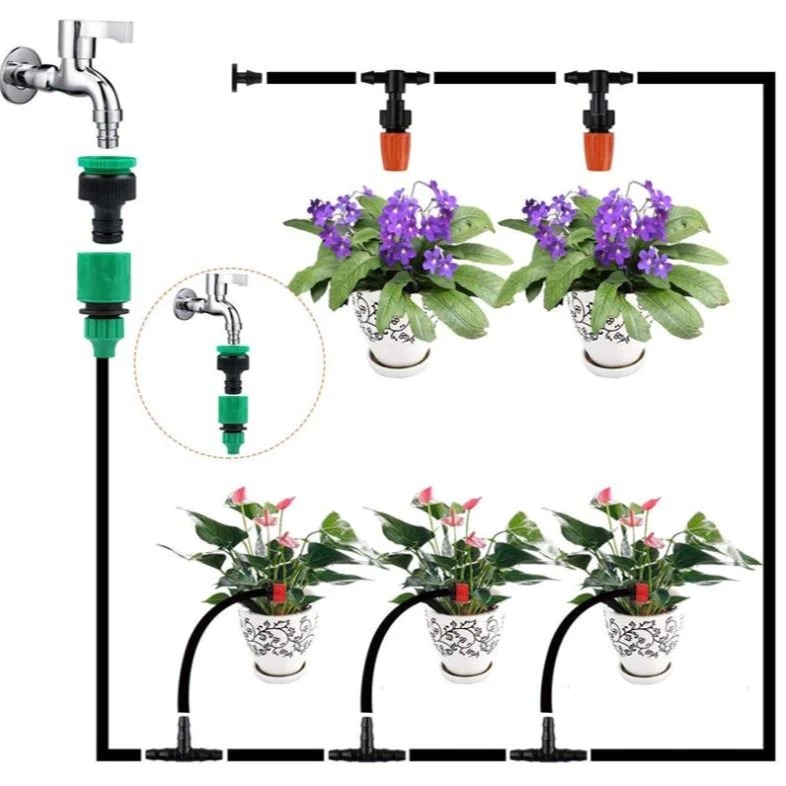 Specifications:
MATERIAL: PP+POM
FEATURES: Adjustable / Cooling
TYPE: Water Hose / Watering Kits
OCCASION: Flower / Garden / Green Plant / Shed / Yard
WORKING PRESSURE: 1.0-2.5kg
FLOW RATE: 0-8L/h
INNER DIAMETER: 6mm
HOSE LENGTH: 5m / 10m / 15m / 20m / 30m / 40m
SPRAY DIAMETER Approx: 60cm
Package Includes:
5/10/15/20/30/33 × Atomizing Nozzle (Optional)
1 × 4/7 Hose(5m/10m/15m/20m/30m/40m) (Optional)
5/10/15/20/30/40 × Hose Connector (Optional)
1 × Quick Connector
1 × Faucet Connector
1 × 4/7 Hose Stopper