😕😑😊interactive pins - spinning, sliding, writing - that you can use in your daily life!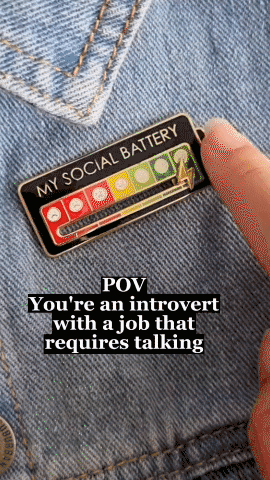 The idea of the Social Battery Pin came about after a long day of work where I was way too drained to talk to anyone. Slide the power symbol left and right across the bar to indicate your social energy levels! Perfect for introverts or on days you are simply too tired to talk. Each bar also comes with an emoji face - no chances of miscommunication here. You might have seen it on Tiktok or Instagram as my video went viral - I'm surprised this pin resonated with so many of you! ❤
Comes in Black & White color variants.
Feature
😀😃【Different Moods】2023 New My social battery pin has seven different expressions for each day of the week and 5 expressions for the workday, you can slide the slice to represent your mood without opening your mouth and let others know clearly what mood you are in.

😄🙂【Versatile & Fashionable】These funny lapel pins come in black and white colors, perfect to add a touch of personality to your backpack, clothing, or jewelry.

😐😑【Excellent Quality】These pins are made of durable alloy and smooth enamel texture, which are long-lasting, non-fading, and scratch-resistant.

😕😟【Easy to Match】These functional aesthetic brooch pins are simple yet classic and can be easily paired with any outfit to showcase your positive attitude.

🙁☹️【Perfect Idea Gift】Use these enamel mood lapel pins to show your care to your loved ones. They are a great gift for friends, family, and anyone who needs a little extra inspiration in their life.
Pin Details
2" | 5cm width
Hard enamel, gold plated
2 rubber clutches on the back
Raised back stamp with my logo for authenticity
The "activities" pin has small icons that represent the following:
Musical Notes: "I'd like to listen to music/sing/dance"
Paint Palette: "I'd like to paint/draw/color/do arts and crafts"
Two Balls: "I'd like to play basketball/soccer/some other sport"
Toy Box: "I'd like to play with my toys"
Video Game Controller: "I'd like to play video games"
Book: "I'd like to read a book; I'd like you to read me a book"
Smiling Face: "I'm happy/content"
Heart: "I love you; I want to hug/cuddle/snuggle"
Monitor and Phone: "I'd like to use the computer/TV/phone/tablet"
Puzzle: "I'd like to do a puzzle/play board games/etc."
Chair/Table/Lamp Icon: "I want to play inside/go inside"
House/Tree/Sun Icon: "I want to play outside/go outside"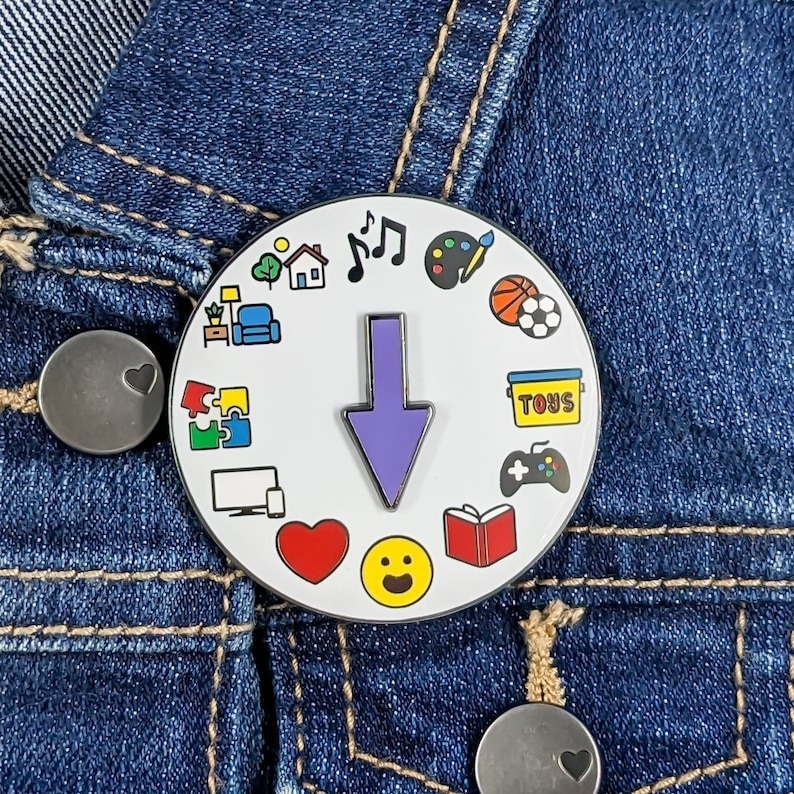 The "errands" pin has small icons that represent the following:
Food Plate with Fork/Spoon: "I'm hungry"
Cup of Water: "I'm thirsty"
Toilet: "I need to use the bathroom/restroom"
Blue Thermometer: "I'm cold"
Red Thermometer: "I'm hot"
Bandaid Icon: "I'm hurt"
Smiling Face: "I'm happy/content"
Frowning Face: "I'm unhappy/discontent"
Sleeping Face: "I'm Tired"
House Icon: "I want to go home"
Red Thumbs Down Icon: "No"
Green Thumbs Up Icon: "Yes"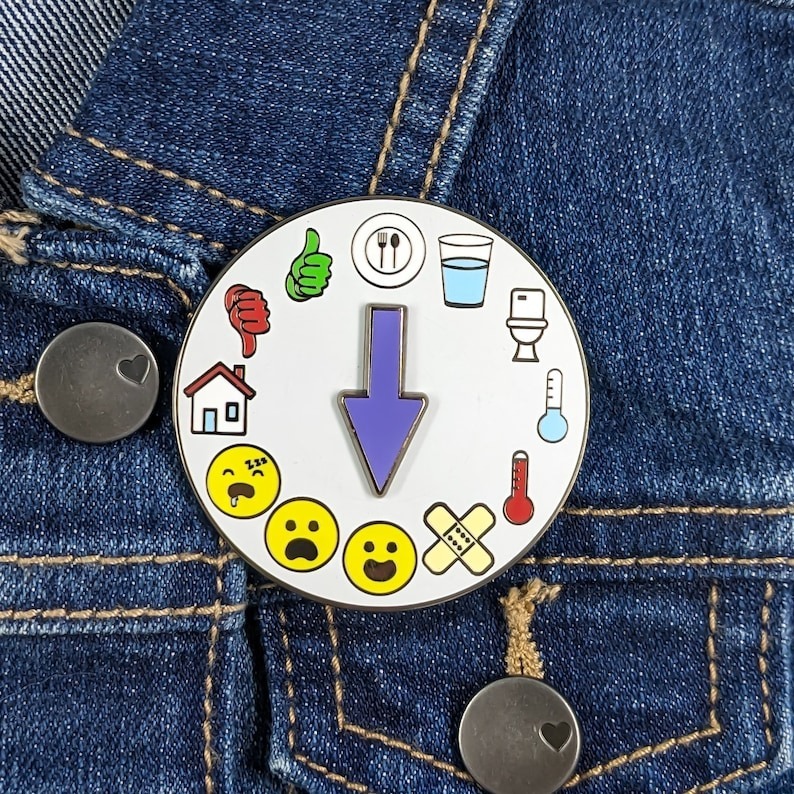 Notes
Due to manual measurements, please allow slight measurement deviations.
Due to the different display and lighting effects, the actual color of the item may be slightly different from the color displayed in the picture.